Tuesday, July 22, 2014
Posted by

SOULFIESTA
at 6:06 AM
0 comments

Posted by

SOULFIESTA
at 5:57 AM
0 comments

Monday, July 21, 2014
Nic Belasco remains to be the most hard working player in the league.
I've always been a reluctant fan of Nic Belasco -- only cause he played for SMB and I was rooting for Alaska Milkmen. Then he came over to the Tim Cone led team, which made me an instant fan. But as a basketball head, I have never discounted the fact that Nic Belasco played hard, sharp and with always an extra umph every minute he played. I remember his buzzer beater trey, one of the best shots I've seen win a game in the PBA. At the tender age of 40, I spotted Nic at DJ Jena's URBN wednesdays -- and candidly asked him, who is the best coach he's played for. He says "Ron Jacobs, no doubt" and then says "Tim Cone is one hell of a coach too." -- At that time, I knew I had to pick his brain. So today we unleash a Soulfiesta exclusive, an in depth interview with one of PBA's hardest worker, Nic Belasco.
What is Nic Belasco's alcohol drink of choice?
Hennessey
What is your favorite Filipino dish?
Kare Kare, Bulalo and Kilawin
Now that we got those out of the way - you've such a storied career and recently got drafted to play for upcoming PBA expansion team, KIA. I want to know where it all started. What about the game of basketball did you like?
I really started playing basketball serious at 14 when I growth spurt. At that age, I started being able to out jump every one! I could do something that most guys couldn't being a high flyer. Before the height and jumping, it was all baseball for me. Then when they started throwing 80 mph pitches, and I can dunk a basketball - I figured, let me play ball instead.
What particular moment in your life did it hit you - I can actually make a living off of this sport?
When I was in college I had some Filipino classmates and they told me that I'd do well in the PBA. I didn't know anything about PBA basketball prior to that. Since I was one of the main players on my college team and Filipino, some agents started to take notice. At a Fil Am tourney in LA I met coach Chot Reyes and Alvin Patrimonio from Purefoods. They told me I would do well in the PBA. Coach Chot went back to Manila and created a buzz about me in the coaching circle. Then I started receiving offer sheets, tha'ts when I realized that they weren't playing around. I hired my long time friend Bobby Rius as my agent, and my journey back to the Philippines began.
Knowing what you know now, what would you tell 20 year old Nic Belasco given the chance to improve on his game and life in general?
Wow, hindsight is always 20/20. As far as work ethic and drive, I've had that since before 20. I've always been a player that will beat you with hard work, not talent. Being from a small town in Northern California, a bit sheltered from the rest of the world, money and fame were things I never expected to have. So, I'd probably give a 20 year old Nic a quick run down on how to deal with life as a pro basketball player. How to save and invest the money you will make. How to deal with the pitfalls of being known by just about every Filipino person around the globe. And how to use all of the recognition you gain to your advantage in business. These are all things I'm doing now at the young age of 40. I come from a blue collar family who has always worked hard in their careers. I'm now changing that outlook and becoming a business minded person.
Are you making plans for life after the game? Is it life outside the Philippines or life within the league?
I'm currently setting up my sports academy here in Manila. Right now we are doing skills development for all age groups. Look us up at Basketball Unlimited Skills Academy (BUSA) on Facebook under Nic Belasco. We do camps everywhere and anywhere from Barangay Community give back camps, school camps, summer camps (there's a big one coming next summer). It's all in the works right now. As for the PBA, I plan to try to get on as an assistant coach somewhere and get my foot in the door. I've got tons of experience in the PBA and have played and learned from the best coaches in PBA history.
What are the challenges that basketball players face in their first 3 years in the league?
This brings me back to what advice I'd give a young Nic Belasco. I never had problems with women. I was fortunate to meet my soul mate Mafae Yunon Belasco. She's been the strong force that has guided me and our family through everything.
First 3 years of a PBA player is definitely the most difficult. The average career lasts around 3-4 years so the biggest problem you'll encounter in the first 3 years is figuring out how to stay longer and keep a job. The key for me is two things, I was lucky enough to not have any major injuries, and two, I always had to reinvent my game. I developed constantly through the years from just a rebounder, defender, hustle player, to an outside shooter who could also penetrate and post up. At one point in my career I had it all. Lockdown defense, athleticism, 3-point range and an inside game. So reinvention is the key to longevity. Especially as your body changes through the years, your game must also evolve.
Does Nic Belasco support or champion an advocacy outside of Basketball?
Through my BUSA program, I give back to the community conducting free basketball clinics. I bring along some of my PBA friends to help coach and interact with the players. I've been doing this for the past year and it's very fullfilling. It gives me a chance to give something back to the community. Sponsors and municipalities help fund the events. It's a way for us as basketball players to pass on our blessings to certain communities that may not usually have a chance to meet celebrity players or entertainers. Sponsors help put together give aways for all participants and we get to put on a show and teach basketball basics to the youth.
What is your before the game playlist?
I grew up in the 80s and 90s, so I'm all about old school hip hop and Rnb. But my dad always listened to Jazz and rock when I was a kid, so my taste in music is well rounded. My playlist is nuts. Anywhere form Kendrick Lamar, Lil Wayne to Tupac, Biggie, Nas, Snoop, Common, GURU to KRS1, The Alchoholiks, NWA , DOC, The Luniz, Hierogliphics, my boy Pismo from Stockton, JT the Bigga Figga, RBL Posse, E40, Too Short to Anita Baker, Lionel Richie, The Whispers, ConFunkShun, a lot of west coast music, old school funk, Kool and the Gang... the list goes on. I got a mix of all of these on my pregame playlist. I use my DJay app on my iPad to mix while I'm in the locker room zoning out before a big game. Helps me get my focus right and mind calm and relaxed and ready for battle. My teammates always think I'm writing emails or texting, I'm just mixing music and jammin. LOL.
I know you take pride on playing defense - who is the hardest player to defend AND who is the player you hate playing against?
There's three guys that really taught me a lot about how to play the game, while I had to defend them. Rudy Hatfield, Sonny Alvarado, and Eric Menk. I learned how to be relentless at rebounding the basketball, by having to guard these three guys. Ironically then, we were all on the same team, Tanduay. In boxing them out if I eased up for a split second, they'd get the ball and score a rebound put back. The techniques that helped me pile up my rebounding numbers through the years all came from having to defend them. Swim moves, pushes, leverage and positioning. I copied everything they did. They were in such great shape, I had to make sure my body was on their level. They pushed me to be on their level. The whole reason Ron Jacobs came after me in the trade from POP COLA to SMB was because he liked the way I guarded Sonny Alvarado. Once I was on SMB that was my primary role. Defend those three and keep them off the boards for 40 minutes a game. We had some major battles together back in those days. Me and Eric would look at eachother and say "Damn, this is crazy. We going at it." All respect though, and competition. Never anything dirty. I just knew I had to throw my whole body into them every time to keep them off the glass. It was amazing to compete against them and it made me the player I became.
As for Locals, Kirby Raymundo. I've always had great respect for Kirby as a person. But between those lines, we were trying to take each others heads off. Battling for a rebound, posting up, even dead ball situiations we would be at each others necks. I remember one game, lights were still off and we are there getting loose. Me and Kirby had damn near fought the game before, but that was just normal for us when we played each other -- He came across and said, "Nic, Im sorry about last game. I lost it." I said, "No way man, it's all good. Thats all part of the game bro. We good." I was appreciative of him extending an apology though. Crazy thing about it is this - when the jumpball when up, as it was the air, Kirby lays an elbow right into the middle of my chest. I just took it and smiled. It was on once again as usual. To this day when I see Kirby I stop and talk with him, ask about his family and all that. Great respect between two warriors. I love it.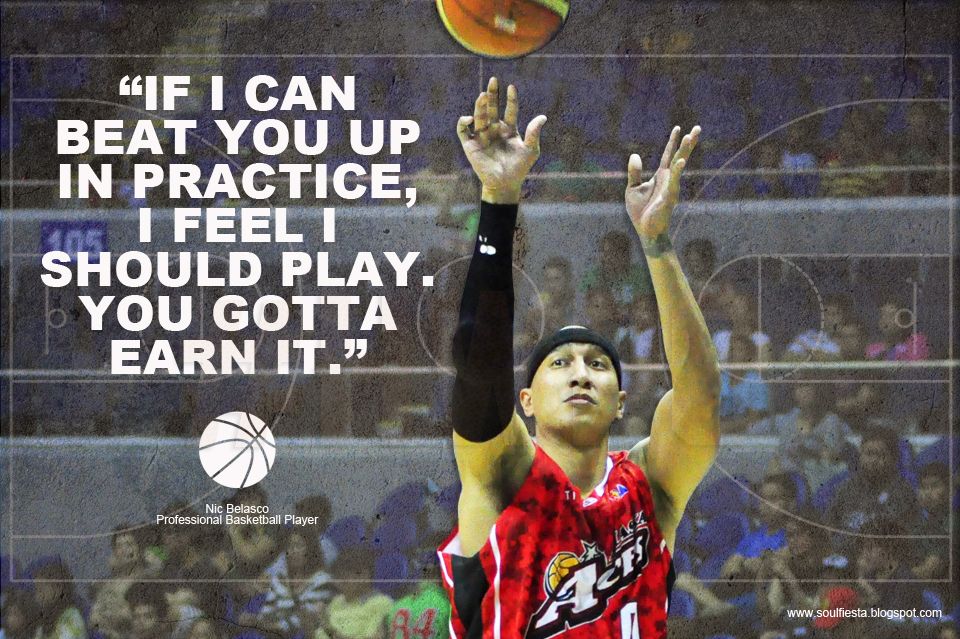 What do you attribute your longevity in the league to?
Reinvention. No major injuries. Lots of luck. The harder you work, the luckier you get, and I always worked my ass of. Still do actually. Hard work pays off #HWPO.
Is PBA a coach's league or a players league?
I'd say in the elimination games it's a players league. Players tend to let loose and try to prove themselves individually. Once the playoffs come around you see the shift. The good coaches are the ones always in the semis and finals. So to win here it's about the coaching and the system. Everyone can play, you even have quality players who can't get a job.
Do you think team owners treat veterans with less care?
Here in the PBA once you pass 33-35 they try to phase you out. I highly disagree with this. These days, you can stay a world class athlete up to your mid 30s and even past 40. It all depends on how you take care of your body. How you work out. Mid 30s and up you have tons of experience, and if your body holds up still, your experience can make you beat a young high flier who doesn't know much about the pro game. A lot of coaches and managers don't look at it that way though. They want to develop young players. Many times these days, young players come into the PBA and without earning it are given playing time. I'm not a fan of that. If I can beat you up in practice, I feel I should play. You gotta earn it.
How is the ABL different from the PBA?
I really enjoyed my ABL expereicnce. I played 14 years in the PBA and never got to play outside the country. In the ABL, I was in a different country every week! I think the ABL has a huge upside if it can be set up well. They are doing a lot to keep the league moving forward and I give them lots of credit for that. We really need to get a Philippine team back in the ABL. Any way to give more jobs to all the players out here with no where to go, I'm all for it. ABL is a developing league trying to make it amidst the economic obstacles that they have to to contend with. The PBA is well established and seems to be growing every year. I'm thankful to have been a part of both leagues.
Do you think we'll see a Philippine bred basketball player make it to the NBA in the next decade?
Look at Japeth, and Ray Ray Parks. Local players are bigger stronger faster and better players these days. Even Kiefer Ravena. The skill levels that our young Filipino players have these days is getting better and better every generation. I doubt the NBA is far off for home grown Filipino talent. I'm excited to see it. Even for a Fil Foriegner to make it would be a success for all of us.
What are you still wanting to acomplish in your storied career as a ball player?
I'm really looking to play another 2 years in the PBA. Most of course would say "No way. you're to old!". But when you watch me play against young bigs in the PBA, how can you say that I'm not competing? This up coming year I plan to get somewhere that I can make an impact. I want to show the world that I can compete in my 40's. Look at Asi Taulava. 41 years old and still in there competing. It's all about work ethic. And thats part of my DNA. No doubt in my mind I can do this.
Which team would you like to retire your number?
I was a big part of the history of San Miguel. I'd say there. Our team was legendary from top to bottom. I'll never forget it. I was able to contribute a lot there from being a role player, to being one of the top guys on the team.
Jordan aside, who is your all time favorite basketball player?
I'll mention two. KG and Alonzo Morning. The passion that they play with is amazing. I always tried to play with the same passion these two played with. Thats how I was taught to play. Play hard every second out there and never give up.
If you were given a signature shoe, what would you name it
#HWPO
What do you want to be remembered for?
Being the guy that worked hard. No talent. Just work ethic. Being a champion because of that work ethic. Started from the bottom, Southside Stockton, California and made it big.
The Belasco's are an active bunch. Everyone plays sports!
What are the name of your kids? What are they into? And has anyone picked up on basketball?
Nico 14, Mike 12, Moses 9 and Nicci 5. All picked up on basketball. Part of the reason I'm starting my sports academy is for them. I want them exposed to all sports. So far Nico is most athletic and wants to play in the PBA someday. I work him out as much as possible. Mike is a baseball guy, he played in the states a couple years already. He also trains with me in basketball and loves it too. Moses is long and lankyn natural talent. He picks up on things really fast. He and Nico have my body structure. I tell them all the time that there's gonna be a time soon when they'll be able to out jump everyone. I'm giving them the tools now to be able to take it to another level. Nicci is my beast. She excels in anything she tries. Completely fearless. She plays ball, skateboard, soccer. It doesnt matter, shes good at all of it. My wife and I put a lot of time training and exposing them all to different sports. Mafae was on the Australian junior tennis circuit back in Sydney. She's an athlete also. I got lucky.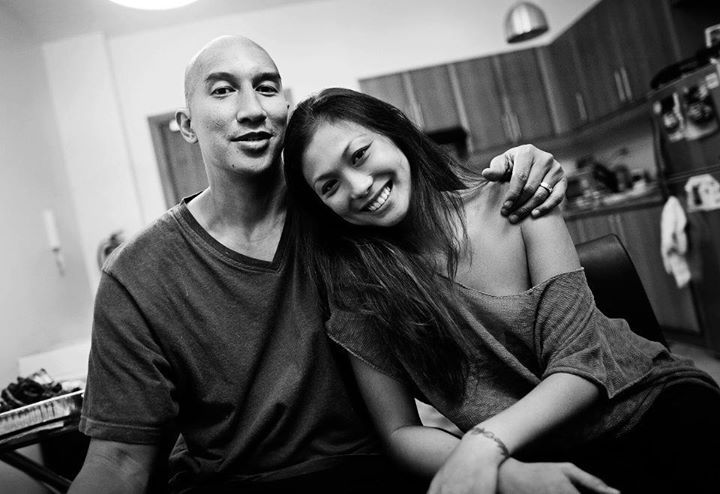 Nic and Mafae just recently celebrated 11 years together! Cheers!
If there's a book you would want to recommend that kids should read, what would it be?
Character Driven by Derek Fisher. Outliers by Malcolm Gladwell - all about 10,000 hours to be great at something. You gotta have good character and be willing to put in the hard work. Brick by brick, it's never easy.
END
You can follow Nic Belasco on his Facebook Page, his Twitter @NicBelasco and his Instragram @NicBelasco209. Big shoutout to Nic Belasco for indulging me and my questions for this new interview series I am doing on this site featuring your favorite basketball players. Photos taken from Nic's Facebook Page, 2 photos credited to Mon Rubio. We promise to bring you great interviews that will bring out another side of your favorite player.
Posted by

SOULFIESTA
at 8:32 AM
0 comments

Sunday, July 20, 2014
Gloc 9 coming out with these videos left and right! That grind though!
Posted by

SOULFIESTA
at 9:56 PM
0 comments